Eric Kawamoto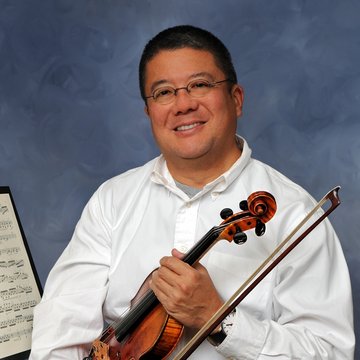 Violin
Music has been central to Eric Kawamoto's life since he began violin lessons at age 10. As an undergraduate at the California Institute of Technology, he played briefly with the Caltech-Occidental Symphony Orchestra, but enjoyed exploring the piano trio literature with talented classmates and coaches in the Caltech Instrumental Chamber Music program. While earning his Master's and Ph.D. in Physics at Harvard, he found time to play in several orchestras, among them the Harvard-Radcliffe Orchestra and the Longwood Symphony Orchestra. During Eric's tenure with the HRO, a fellow violinist and assistant conductor was Alan Gilbert, now music director of the New York Philharmonic. The LSO is a volunteer group comprised mostly of medical professionals; concerts raise funds for health-related non-profit organizations. Moving on to a postdoc at the University of Massachusetts Amherst, Eric played in the Pioneer Valley Symphony Orchestra, with Commonwealth Opera in Northampton, and with Valley Light Opera in Amherst.
Currently Eric is a software engineer engaged in algorithm development for IDEXX Laboratories in Westbrook. Since moving to Maine in 1997, he has played in USM's Southern Maine Symphony Orchestra, serving variously as principal for both violin sections and the viola section. He played in the Portsmouth Symphony Orchestra for a year before happily finding a musical home with the Midcoast Symphony.
Eric also enjoys playing chamber music. A highlight is his annual participation in the Apple Hill Center for Chamber Music summer workshop, which brings together in rural New Hampshire a diverse group including international musicians from troubled areas of the world as well as young people from community music programs in American cities.
A parallel commitment to choral music (Eric sings both tenor and baritone) dating back to his Caltech days has helped inform his instrumental music making. Eric has sung with many groups in Cambridge, Boston, and Northampton and, since moving to Maine, the Masterworks Chorus of the Choral Arts Society, the Oratorio Chorale, and currently, Renaissance Voices. And as a member of the choir of St. Luke's Cathedral in Portland, he took part in summer choral residencies in the English Midlands in 2002 and 2005, singing in 900-year-old cathedrals—an "awe-inspiring experience."
Photo credit: © Jeff Morris/the Pierce Studio