Live Music—String Trio Master Class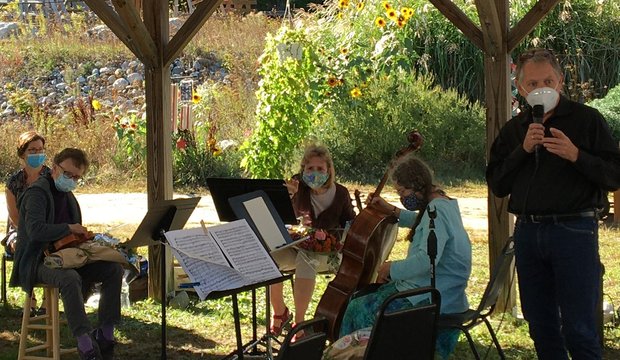 MSO held an open rehearsal of a small group of orchestra musicians on September 12. Mary Hunter (violinist), Jeanie Wester (violist), and Patsy Dickinson (cellist) performed Beethoven's String Trio in G Major, Op. 9, No. 1, with coaching from Maestro Rohan Smith.
Blais Flowers & Garden Center hosted the event at an outdoor structure, for a limited number of audience members who attended free of charge in compliance with COVID-19 guidelines. It was a beautiful day to share music with an appreciative audience! They got an insight into rehearsals, and many said how nice it was to hear live music.
Another open rehearsal is planned for October 10, with a slightly larger group of musicians. Watch this website or our Facebook page for more information and how to reserve a spot in the audience! Or stay in touch via newsletter: just mail us at info@midcoastsymphony.org and request to be on the email list.