Summer Message from Rohan Smith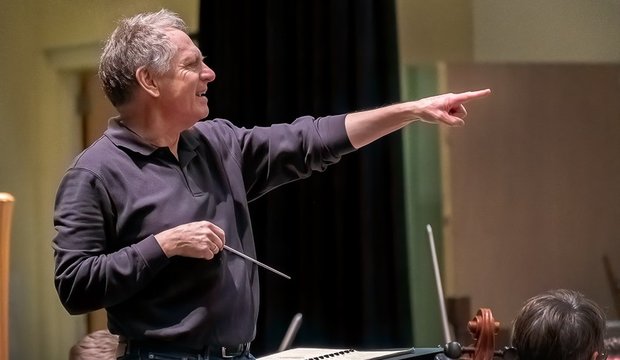 Dear MSO friends,
It now seems that our music making together in MSO is from another very remote and distant world, as musicians everywhere are in a continued state of suspension from music making together, which is the true fuel that keeps us all going. I don't think I ever realized before how much I depend on the energy of live musicians connecting to each other.
I am very lucky to have been able to stay in touch with music and musicians over the summer. In late June through the first weeks of July, I participated in the Virtual Conductors Retreat of Medomak, directed by my former teacher Kenneth Kiesler from the University of Michigan. The retreat was "attended" by 250 conductors at every career level from across the world – Asia, Australia, the UK, Holland, Russia, Mexico, Brazil, Germany, Argentina, Turkey, Egypt, Columbia, and of course a big group from the US.
A central goal was to recommit ourselves to the disciplines of score study and reflection of music, away from the pressures of career, administration and concert deadlines. And in addition, the retreat was an opportunity for a wide exchange of ideas on programming, engaging with audiences and the wider community, and on the question of whether music can be a tool for social change in communities around the world. It was inspiring to hear how orchestras are reaching out to new audiences in rural areas and inner cities in the US, and how opportunities for kids to play in youth orchestras have transformed lives in many countries. There is so much exciting new music being commissioned by orchestras and written by composers across race, gender and culture.
For myself, I was able to spend several weeks relearning the Mozart G minor Symphony, Beethoven 7th, Brahms 4th and Shostakovich Chamber Symphony Op. 110a, and learning the John Adams Chamber Symphony (very difficult). I got to conduct excerpts for most of these silently in front of small groups, but once for about 90 conductors! Quite intimidating and sounds like a light bulb joke!
One valuable resource that emerged from the retreat was being able to connect to the enormous network of conductors who are faced with the same question that we face in MSO. How and when do we start playing together again? How many of us can play together safely? Who do we play for? Do we perform on-line or do we play for a hall that is a quarter full? All these questions are under intense discussion and I can only say that the conclusions are still tentative and evolving. Your input and ideas will be important and helpful for the board in making responsible decisions for our orchestra.
I look forward so much to hearing the first sounds that we make together however we do this! Stay in touch with music every day if you can!
My warmest wishes to you all,
Rohan
photo credit: Corrie Zacharias