About the Orchestra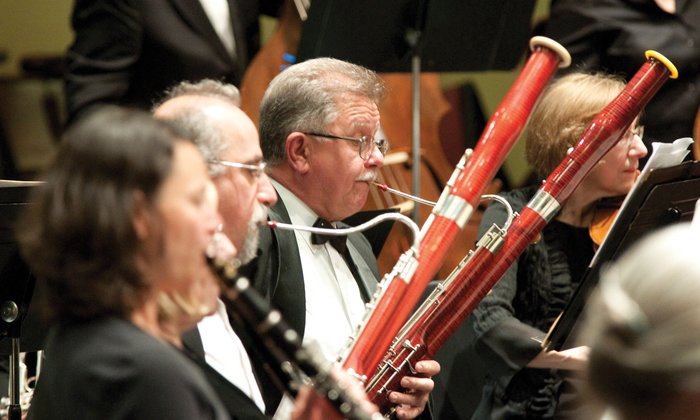 The Midcoast Symphony Orchestra began as a chamber group in 1990. Over the years, the group gradually added more instruments and is today a modern symphony orchestra. It performs a full range of orchestral literature from the classical to modern periods.
The orchestra plays four regular concerts each season at the Franco Center in Lewiston and the Orion Performing Arts Center in Topsham.
A community-based organization, the orchestra draws players and audiences from south of Portland to Rockland along the coast, and inland from Augusta to the Lewiston-Auburn area. Its members all volunteer their time to practice and perform with the Midcoast Symphony.
The group has expanded in size and capability under the leadership of Rohan Smith, Conductor and Music Director since 2003-2004. As its reputation grows, the orchestra attracts ever more professional-caliber musicians and award-winning guest artists.
Our performances are made possible by the operational and financial support of many individuals, businesses, and foundations. Thank you, supporters!
Board of Directors, 2023-2024 season:
Tim Kenlan, President
Denise Shannon, Secretary
Carol Preston, Treasurer
Quinn Gormley
Kathryn Krott
Denise Shannon
Rachel Stettler
Ted Walworth
Ex Officio: Michael Levine, Executive Director
Staff
Michael Levine, Executive Director
Ray Libby, Manager
Beth Almquist, Librarian
John O'Connor, Box Office
Photo credit: Keith Spiro Photography