Virginia Stelk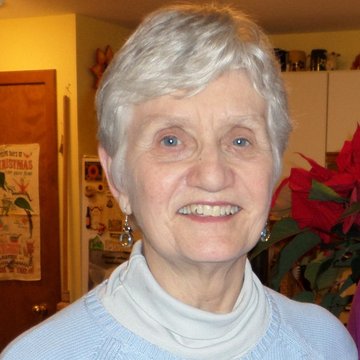 Cello
Violoncello was the instrument I chose to learn in the fifth grade string program in Salina, Kansas. My mother had studied the violin and I tried to play her violin while sitting on a chair and holding it like a cello. Thus studying and playing the cello seemed very logical and it has been a special part of my life ever since.
At Bethany College, Lindsborg, Kansas, I started as a music education major, but really missed studying Spanish. Spanish soon became my major and music my minor. However, the cello was always there with me as my husband, Lincoln, and I lived in Washington, DC, Massachusetts, Ohio, New York, and now Maine. With every move, I always played in chamber groups and orchestras and studied privately.
After my 44 years as a classroom teacher and administrator, and Lincoln's 34 years of parish ministry, we retired to Peaks Island, Maine, and later to Yarmouth. I have continued teaching in Portland and at the University of Southern Maine. I soon found chamber music groups and the wonderful Midcoast Symphony Orchestra, which I was invited to join in 2003. Membership in Sigma Alpha Iota, Rossini Club, and Marston-Kotzschmar Club also keep me working to do my best.