Lise de la Salle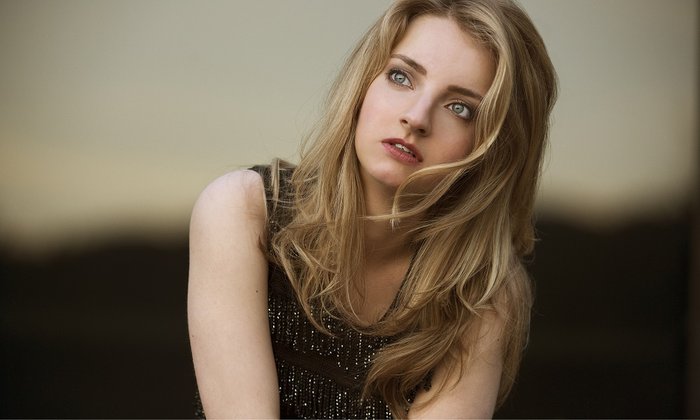 Concert IV, 2017-2018 season
In just a few years, through her international concert appearances and her award-winning Naïve recordings, 29 year-old Lise de la Salle has established a reputation as one of today's most exciting young artists and as a musician of uncommon sensibility and maturity. Her playing inspired a Washington Post critic to write, "For much of the concert, the audience had to remember to breathe... the exhilaration didn't let up for a second until her hands came off the keyboard."
A native of France, Ms. de la Salle first came to international attention in 2005, at the age of 16, with a Bach/Liszt recording that Gramophone Magazine selected as "Recording of the Month." Ms. de la Salle, who records for the Naïve label, was then similarly recognized in 2008 for her recording of the first concertos of Liszt, Prokofiev and Shostakovich—a remarkable feat for someone only 20 years old. Recent recordings offered works of Schumann and the Complete Works of Rachmaninoff for Piano and Orchestra with Fabio Luisi and the Philharmonia Zurich.

Lise de la Salle has played with many of the world's leading orchestras and conductors. She made her London Symphony Orchestra debut with Fabio Luisi and in 2016 returned to the orchestra with Antonio Pappano. Luisi, who invited her to become the first Artist-in-Residence of the Zurich Opera in 2014, has also frequently featured Ms. de la Salle with the Vienna Symphony, including a performance in New York on the Great Performers Series at Lincoln Center. In the U.S., she has played with the Boston Symphony, Chicago Symphony at the Ravinia Festival, San Francisco Symphony, Minnesota Orchestra, and four times with the Los Angeles Philharmonic, among others.

Following triumphs in 2016-17 with Conlon and the National Symphony, Morlot and the Minnesota Orchestra, and stepping in for André Watts with the Philadelphia Orchestra and Luisi, Ms. de la Salle's coming seasons include appearances with the Atlanta, Austin, Dallas, Detroit, Ft. Worth, Quebec, and Rogue Valley Symphonies. She will be heard in recital in Chicago, Montreal, New Orleans, New York, and Washington, DC, and will also be a guest artist with the Chamber Music Society of Lincoln Center.

Born in Cherbourg, France, Ms. de la Salle began studying the piano at the age of four and gave her first concert at nine in a live broadcast on Radio-France. When she was eleven, she received special permission to enter the Paris Conservatoire Supérieur de Musique to study with Pierre Réach. At thirteen, she made her concerto debut with Beethoven's Piano Concerto No. 2 in Avignon, and her Paris recital debut at the Louvre before going on tour with the Orchestre National d'Ile de France playing Haydn's Concerto in D Major. She graduated in 2001 and subsequently enrolled in the postgraduate cycle with Bruno Rigutto. Since 1997, she has worked closely with Pascal Nemirovski and studied with Genevieve Joy-Dutilleux.

In 2003, Ms. de la Salle won the European Young Concert Artists Auditions in Paris, and in 2004 she won the Young Concert Artists International Auditions in New York. At the Ettlingen International Competition in Germany, Ms. de la Salle won First Prize and the Bärenreiter Award. She has also won First Prize in many French piano competitions, including the Steinway, Sucy, Vulaines, and Radio-France Competitions. In 2003, she won the "Groupe Banque Populaire Natexis" Prize.
For more information, please visit www.lisedelasalle.com.
FB: @lisedelasalleofficial
IG: @lisedelasalle
TW: @lise.delasalle
G+: #lisedelasalle
Hashtag: #lisedelasalle
Photo credit: Frank Salomon Associates © Lynn Goldsmith